The magnitude of the problem
As per the latest report from Statistics, Canada Diabetes affects more than 1.6 Million Canadians in Ontario alone. It is not only diabetes that so many Canadians suffer on a daily basis, but also the complications and drawbacks of diabetes such as peripheral nerve damage (what is referred to as peripheral neuropathy), eye damage with vision loss, heart disease, kidney failure and coma from uncontrolled diabetes or overdose of insulin.

This article discusses the different aspects of diabetes and the ways to prevent it and treat this real health problem highlighting the diabetes problem and finding the solution in general with emphasis on the population in Niagara Grimsby and Hamilton.
How to diagnose diabetes?
According to the Diabetes Canada, 2019 updates https://guidelines.diabetes.ca/cpg/chapter3    A fasting blood glucose level of more than or equal to 7 mmol/l, a 2 hours glucose level after consuming 75 grams of glucose more than 11.1 mmol/l or Glycated haemoglobin (A1C) more than 6.5 % all are diagnostic criteria for diabetes mellitus.
Types of Diabetes Mellitus
There are two main types of diabetes: Type I usually affects young teenagers and is due mainly to damage of the pancreatic B cells that are responsible for insulin production and usually affected patients are underweight and present with severe symptoms of diabetes. The other type (Type II) usually runs in families and it affects middle-aged adults who present with milder symptoms than type I and are usually obese or overweight. The third, less common type of diabetes is called Gestational Diabetes and it affects women during their pregnancies and is usually a temporary disease that goes after childbirth.
How can we prevent diabetes?
If you have a family history of diabetes especially to your first degree relatives ( such as parents, siblings or cousins) you can be at high risk of having diabetes at middle age, so the question is how to prevent diabetes?

Given the fact that, diabetes is a multifactorial disease which means that not only genetics or hereditary factors play a role in its incidence, but also diet, lifestyle and daily activities can influence to a high degree, it makes sense to start a prevention program for these patients to avoid development of diabetes and reduce its severity if it happens. This program needs guidance from the health care professionals who are trained in this area of medicine.

In the Niagara Region, Grimsby and Hamilton, a diabetes prevention program exist that helps guidance of patients with a high tendency to develop diabetes. Such activities include an exercise program to help weight loss, improve glucose levels in blood and correction of high cholesterol levels https://www.niagararegion.ca/health/activity-nutrition/default.aspx 

Furthermore, it supports public health awareness through many health advisories.

The healthcare professional who can advise for a better lifestyle to avoid diabetes and improve the response of diabetics on treatment are many and include the family doctors, nurses, nurse practitioners, naturopathic doctors, dieticians, and sport medicine practitioners.


 

Role of the natural health products in diabetes management
Many herbs and natural health products can improve diabetic patient's response to their treatment such as the Indian Herb Gymnema Sylvestre, Bitter Melon, and Cinnamon.  These herbs increase the insulin receptors in the liver and muscles to the effects of insulin and so improve the response of diabetic patients on the treatment. 
 

Acupuncture and diabetic neuropathy
Acupuncture at certain points proved very effective in relieving pain, numbness and tingling due to diabetic neuropathy https://www.sciencedirect.com/science/article/pii/S2005290110600180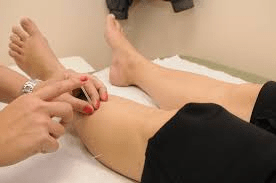 The use of medications (e.g. Pregabalin or Gabapentin) can sometimes improve peripheral nerve damage but, the response is very limited.
 Do you have any question? Need help?

Do not hesitate to contact us at this link

https://www.ontarionaturopathicclinic.ca/site/contact-naturpathic-dr-grimsby-niagara