Background information
In 2019, almost 26,000 Canadian Women were diagnosed with Breast Cancer, and as many as 5000 died of this disease during that year. As compared to other malignancies, Breast Cancer represents a quarter (25%) of all cancers in Canada.  One in every 8 Canadian women is expected to develop breast cancer at one point in their lifetime. This information was updated as of January 4, 2020, from Government Canada Public Health Agency web site https://www.canada.ca/en/public-health/services/chronic-diseases/cancer/breast-cancer.html 
 

Treatment of Breast Cancer
Breast Cancer is one of the most extensively studied and researched types of cancer all over the world. The treatment guidelines for Breast Cancer are updated and changed every year. The basic medical interventions in breast cancer involve surgery, Radiation Therapy, chemotherapy, hormonal treatment and biological therapy as well as immune therapies. The choice of which modality suits any patient is a result of teamwork that involves the Breast Cancer Tumour Board that involves the surgeon, radiation oncologist and medical oncologist. Today's discussion is about the radiation treatment for Breast Cancer. Since the 1950s, radiation therapy was established as an integral treatment for certain cases of Breast Cancer such as those who had the only lumpectomy (i.e. removal of the Breast Lump) with axillary lymph node dissection, total mastectomy with positive axillary lymph nodes and so forth.  
 

The idea of this Research
For a long time, it was thought that treating the whole breast with radiation therapy after lumpectomy (removal of only the tumour mass not the whole breast) may not be justified especially in small tumours or (low-risk cancers), so many radiation oncologists proposed an alternative of giving only Local radiation to the surgery site (or Lumpectomy site) and so avoiding radiation exposure of the whole Breast and so reducing the Radiation Toxicity. The main question here was: Does this limited form od radiation prevent cancer from recurrence at the same rate as whole Breast Irradiation? Hence many Radiation Oncologists thought about this new treatment modality to help Breast Cancer patients getting less Radiation Toxicities.
Research Findings
This is a prospective randomized phase III clinical trial (NSABP B-39/RTOG 0413) performed on 154 oncology centres in Canada, the United States, and Ireland. The study compared whole Breast Irradiation 50 Gy in 25 sessions over 5 weeks against either only 10 sessions of Radiation (total 38.5 Gy) of external Beam Radiation or Brachytherapy of 34 y All given locally only to the surgery site. Results: Over 14 years period (2005-2019) 4216 women were studied and it was found that the local tumour recurrence rate was 4.6% in the local radiation group which was much higher than the whole breast radiation group (3.9%), so the conclusion was that Whole Breast Radiation was better in terms of prevention of tumour recurrence as compared to the local breast irradiation for low-risk cases of Breast Cancer https://cancerres.aacrjournals.org/content/79/4_Supplement/GS4-04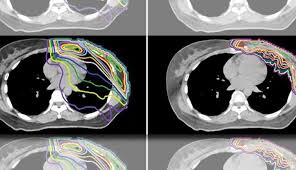 Radiation Toxicity after Breast Irradiation, what do we expect?
Radiation Therapy to the breasts can cause symptoms such as redness, heat, hyperpigmentation (dark discolouration), skin thickening, and Breast deformity
How can you protect yourself from Radiation Toxicity?
There are simple measures you can do to reduce the severity of Radiation Therapy to the Breast such as avoidance of heat sources close to the Breast such as the stove or oven, avoid scratching the skin as the skin is thin and pliable during the radiation treatment and any scratching can result in peeling of the skin. One more thing, it is recommended to use cotton underwear and avoid synthetic or silk ones, also better to avoid the bras to avoid skin friction
Have any question?
No problem contact me at this link: https://www.ontarionaturopathicclinic.ca/site/contact-naturpathic-dr-grimsby-niagara